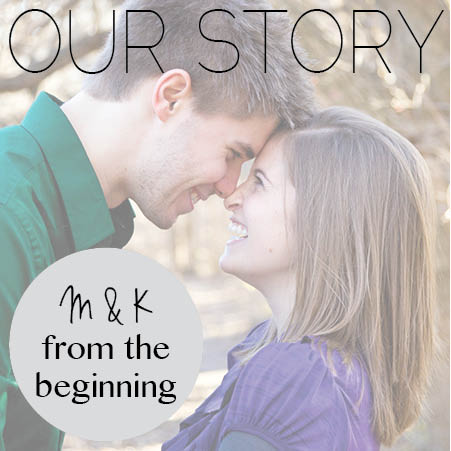 Mike and I had spent a few weeks talking on the phone every night – very late into the night and finally we were able to see each other again. Our first date. He drove to Wichita from Sterling – I was in town for my Spring Break – and we went to dinner at Olive Garden. He met my parents and littlest sister briefly before we headed out. Dinner was great – we were both really nervous but managed to hide it well.
He ordered the alfredo and I ordered spaghetti with meat sauce (something I had never ordered before). I guess my nerves came out in my ordering. We were unfortunately rushed through our meal and our things were boxed up before we had finished eating. Neither of us said anything though – nerves again – and we went on our marry way.
After a drive through a small Wichita park and a couple wrong turns (I challenged Mike to get back to my house without directions – eventually I did give directions – Mike is known as "directionally challenged") we made it back to my house. He brought his guitar in and he played for me in my basement until the very late hours of the evening *morning* and then he went on his way. Back to Sterling. Back to long distance.
I had my last "first kiss" that night and I said goodbye for the first of many times to come over the next couple years. We were excited though. We had only a couple months before we spent a summer together working at camp.
We had a few other visits in between. I drove out to Sterling to meet his parents. He drove to Wichita when I was home for the weekend. We managed to see each other as much as possible before the woods. We were in a state of bliss.
Our summer at camp was no different. We were so happy to just be near each other, able to talk one on one, learn more about the other.
We shared "I love yous" on the beach and spent lots of really late nights dreading the end of summer when we had to say goodbye again.
Goodbye became a theme to us. We would do everything we could to delay that "goodbye", but it would always eventually come. We would count down the days before we could see each other again. As hard as the goodbye was though, we knew it was going to last. We dated for a year and 8 months before we got engaged and every moment was some form of long distance besides the 6 weeks of camp in the summer.
Looking back I know that the distance really did make us stronger as we came together, but I really love not having to say goodbye anymore.
Next up? The Proposal!
Happy Day!
The Jaderstons
Keep reading: Our Story {the beginning}, {the proposal}, {the three promises}, {the engagement party}