We have made a big change in our little home in the last couple months.
It's in our kitchen.
Here is our before…
When we bought this house I knew I wanted all of that oak to be white. If you've been following along then you know we painted our trim white last winter. Well this Fall we painted those cabinets white: ultra bright white!
And let me tell you, this is a project. Whoa. I still have a hard time believing that I did all of this painting on my own. Wowza. But I did learn how to use my husbands sander. That was fun.
I started by taking all the doors off and putting them aside. I wanted to make sure our kitchen was out of order for the least amount of time possible. So I just started with the cabinets themselves and did the doors later. I kept most of our stuff in the cabinets – except for the food.
Over a six day process I painted all of our cabinet boxes and all our cabinet doors.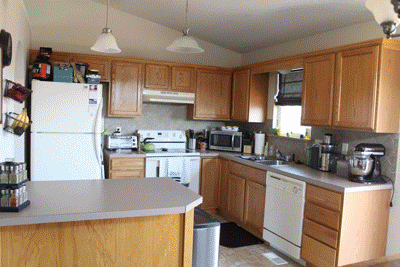 So essentially what I am saying… I am a crazy person. But the result? SO GOOD.
Now I just need to find pulls that make my heart sing. I haven't had much luck yet, but the internet has a forever endless array of possibilities, right?
What do you think? Have you ever painted your cabinets? Wasn't it 10x harder than you expected?