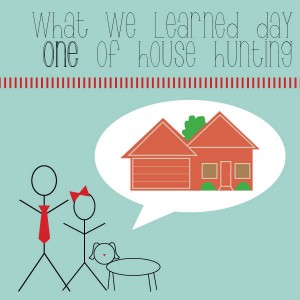 Our first day of house hunting was really fun. Mike and I went into the day excited and anxious to see what would be behind the doors of the houses we'd poured over online.
When we first started looking online we were both able to create lists of what we wanted in a house and what we didn't need in a house.
After walking through some houses our lists have changed a little bit but not much.
Kelsey's List
Dishwasher
Garbage Disposal
3 or more bedrooms
2 or more bathrooms
Fence in the backyard
Newish construction
Mike's List
Nice backyard
3 or more bedrooms
Cool basement – preferrably finished
Garage
Modern/contemporary style
Close to work
We both also wanted it to be in town, with some carpet & some wood floors, a good sized kitchen, and a lot of natural light.
The good news about our lists? Even though they seem long and like we were being really picky, every house we've looked at so far has had all of the things above.
What we've learned so far?
1. We don't need a ton of space. We walked through one house that was about 500 sq. feet more than the others and it was shocking how much space there was. I was overwhelmed. So we thankfully eliminated that one even though it was a very nice house.
2. The kitchen needs to be presentable. We are excited about some DIY homeowner things, but we aren't so excited about entire renovations.
3. The house has to have a good flow. We walked through a house that seemed choppy and confusing. We want good flow that works for us.
4. We aren't picky enough. This is probably a blessing though. We walked away from our first day of looking with 4 really amazing options that we would love if we moved in tomorrow.
5. I kinda want to add fireplace to my list, but am afraid we'll find a house without one that we'll love. They're so cozy and really make the atmosphere of the house homier. But it's something we don't need – So I guess I just answered that one for myself.
I feel blessed to have walked away with so much learned and excited about looking again. We both felt very positive that we would find a house that we both love. House hunting is really fun (so far)!
Happy Friday!
The Jaderstons
Follow us on Facebook
Follow us on Instagram
Follow us on Twitter
Follow us on Pinterest