Like I've said, we are happily welcoming October and cooler weather. I think October is one of my favorite months – actually it definitely is. Mike and I both call fall our favorite season and October is a very typical fall month in Kansas. Not too cold, but cool enough for scarves and no jackets. I'm so excited for the evening walks that will take place in sweaters and boots and the pumpkins that will soon line front porches in this town.
I came home from work today ready to get things done. I typically make a list on my morning break of things to accomplish in the evening but lately I've been coming home and getting NOTHING done. There isn't anything specific distracting me (although I think I've started getting allergies so I haven't been feeling 100%). So I come home and do nothing. I've napped some, watched TV some, but when I look back I can't remember exactly what I do, but it's usually not productive.
I haven't been able to find the motivation to really get work done. At 10:15 when I make my list I feel motivated and then as the hours go by the motivation slips away. It's frustrating and confusing because before now I loved the feeling of completing a task or crossing things off the list. I'm that person who writes something on the list that's already done just so I can cross it off.
The more I think about this the more frustrated I get.
Why can't I push myself to get off the couch? Why can't I make myself more motivated? Why can't I make the decision to get things done?
Because I'm living my life for me. Not for Jesus.
As I reflected on this I was able to point out so many other aspects of my life where I'm living for me. It's frustrating. It's hard. It's tear-jerking and eye-opening. I won't settle for this though.
Today is the first of October. There are 31 days in October. I have been seeing all over the blog world something called "31 Days". It's a challenge of sorts where you write about the same topic for 31 days. Here are 31 Days of Peace and 31 Days of Creating White Space, two of my favorites in my Bloglovin' feed. The challenge began over at Nesting Place and if you want to learn more check out Everything You Need to Know.
Now, I don't think I'm up for the challenge of writing every day for 31 days. I simply don't have enough time or the energy right now. But I do want to challenge myself to 31 days.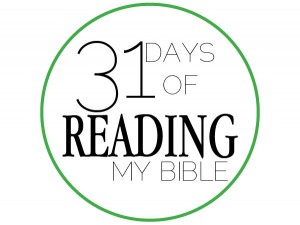 It's not going to be a lot of reading, but reading still. I'll be honest and admit that I've never been good at this. Never. But I really want to be good at this. I want to thirst for God's word instead of seeing it as something on my list. Want to join me? Pick up your bible once a day for 31 days and hopefully after that we won't want to put it down.
This won't perfect me. It's not my "easy fix" to living my life in ways that aren't glorifying to God. It's my step 1. My hope is that through God's word I can be transformed and enlightened to what it looks like to live for Christ and not for myself.
Why am I sharing this with you?
Because I will be checking in every once in awhile with an update on how my 31 days is going. It won't be every post, maybe not even every week, but I will check in because of the accountability this blog holds for me. My readers are my friends and family and I want them to know what I've committed to so they can hold me accountable.
If you are joining me, please let me know. I'd love to hold you accountable as well.
We're welcoming October with joy and I will hopefully welcome November with a new love and desire for God's word.
It's Tuesday and I love you for reading.
The Jaderstons