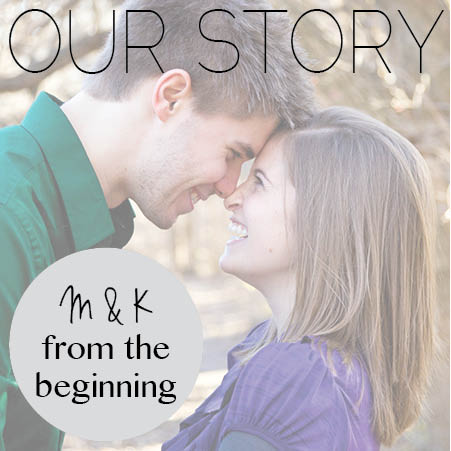 As promised, the man himself is here to tell about the finale to our proposal story… I have always felt that he tells the story best. I manage to leave out crucial parts and try to come back to them later and then people get confused…. So, without any further confusion, meet Mike!
My wife is awesome.  I have the privilege to watch the many hours of work she pours into this blog and the growth in her skills as a blogger.  I am so proud of her.
She asked me to write on the proposal from my perspective.  So here it is.
It seems that proposals have become a contest.  I have seen more videos pop up with names like, "Best Proposal Ever," "The Most Over-The-Top Wedding Proposal," or the "World's Most Romantic Proposal".  I even heard there is now a website dedicated for people posting romantic, clever, or unique ways of proposing.
From the beginning, I didn't want that.  I didn't want the emphasis to be on the creativity or effort that I put into the proposal.  Don't get me wrong, I have seen and heard of some excellent proposals.  Friends and family of mine have proposed in some ingenious ways.  But for me, I didn't want the focus to be on a dramatic event.  I wanted the focus to be the commitment, love, and hope of a life spent together after "the question".
With this in mind, I wanted to make the proposal simple.  As Kelsey explained, I led her to a spot on Sterling Lake, got on one knee, and proposed.  She went kind of crazy for a little bit and finally said yes.  I really just wanted to put the ring on her finger, but her hands were flailing about.  After a minute of this, I finally exclaimed, "Give me your hand!" and I put the ring on her finger.  A moment of anxious excitement overtook me as we smiled and laughed together.  It's one of those moments where you smile so big that your mouth hurts, but you don't care.
After a moment or two, I grabbed her hand and told her to walk with me.
While we were dating, we talked a lot about being married. Three months into dating I was 100% sure I was going to marry her, so the topic came up frequently. I had a strong desire to show her that getting engaged wasn't just "the next step." I wasn't just going through the motions or completing a formality.  I really wanted to show her that this was an important, meaningful step for us.  Doing so took some preparation.
My best friend and I worked hard to create a space in the Sterling Public Pool locker room that was near the proposal site.  We hung sheets on the walls, surrounded the area with candles, and almost burnt down the place when one of the sheets caught on fire.  Sam came to the rescue, but it was a close call.  It really looked nice, and I couldn't have completed it without his help.
With nervous anticipation I dragged Kelsey to the dimly lit room.  I can remember the quizzical looks she was giving me as she kept asking, "Where are we going?" and the response always being, "You'll see."
I told her to take a seat.  I watched her eyes shift and take in the room, obvious that she was dying to know what was going to happen next.  She looked beautiful.  I distinctly remember the candles casting a huge shadow behind her.  It looked like a giant Kelsey.  I quickly told myself to focus on the matter at hand and not to worry about the giant behind her.
At this point I began my poorly rehearsed speech.  I explained to her how much she meant to me, how amazing it has been to be dating, and how God has been so good to us.  I assured her that this proposal is not something I am taking lightly.  And I told her that I wanted to show her that.
"That's why we are here, Kelsey. I want to make you three promises."
Kelsey knows the significance of me promising something.  During our relationship, I made it a point to never break a promise (I was 99.8% successful).  I wanted to make three promises, each with some sort of gesture to show her the importance of what I was doing.  Here are the three promises.
Serve
The first promise was to always serve her.  I told her that I would always work hard to put her first, think of her, and serve her in our marriage.
Washing a person's feet was a representation of status in the Bible.  Servants would wash their master's feet as they came into their house.  As a shocking gesture, Jesus washed his disciples' feet and told them, "Now that I, your Lord and Teacher, have washed your feet, you also should wash one another's feet."
I decided to show her this promise by washing her feet.  Taking off her shoes, I guided her feet to a basin of warm water. It was a bit of a battle, to be honest.  As I washed her feet I saw her concentrating not to squirm, as she is one of the most ticklish people I know.  I soon figured out the appropriate pressure to minimize the tickling.  I dried her feet with a towel, and quickly put her shoes back on, because her feet were cold.  We laughed about it.
Pursue
The second promise was to always pursue her.  Kelsey and I spoke a lot about married couples we respected when we were dating.  One of the common themes in those couples was the seemingly never-ending pursuit of the bride.  Even after being married for years, the bridegroom would try to impress, date, and win her.  He would never give up or grow tired of her.
In the same way, Jesus pursues His bride, the church, relentlessly.  Though the church fails and makes mistakes, He continually pursues us.
I explained to her that I plan to always pursue her.  To demonstrate this, I played her a song I had written on the guitar.  It wasn't my best take as my hands lumbered across the fretboard, shaking, confused by the cold of the room and the heat of the moment.  It was a simple acoustic song, without any words.  But I truly meant what I played.
Love
The third promise was to always love her.  I told her that no matter what happens, no matter where we go, no matter who she would become—I would always love her.  I admitted that I will make mistakes, of course, but I would never give up on her or us.
I consider our relationship a blessing from God. I believe His hand was on us meeting, dating, and now being married.  From the very beginning, we have tried to honor Him with our relationship.  Put simply, we would not be where we are without Jesus.
I thought the best way we can celebrate this promise was to share communion together, to be reminded of what true love really is.  Slowly, I read from Luke 22 and we shared the bread and cup together.  Afterwards, we sat for a moment in transcendent silence.  We embraced and I prayed over us.  I don't think I am exaggerating when I say that it was a liminal experience—we caught a glimpse of the hope and restoration that will come when Jesus returns.
"Kelsey, from this day forward, I promise to serve, pursue, and love you forever."
Hug.
"Ready to go?" I asked.  And we headed to my house to celebrate with friends and family.
Happy Monday, friends! And thank you to Mike for taking the time to write this for us. I think I can go ahead and say that the day of our engagement goes into the top 5 best days of my life. 

Love, KJ
Keeping reading: Our Story {The Beginning}, {Firsts}, {The Proposal}, {The Engagement Party}